With rumors flying about the iPhone 5, little attention has been paid to the iPhone Nanorumors that surfaced months ago. While the U.S. has remained quiet about a future iPhone Nano device, Chinese dealers are beginning to sell knock-off iPhone 4 Nano's to the tune of about $60 U.S.These Fake,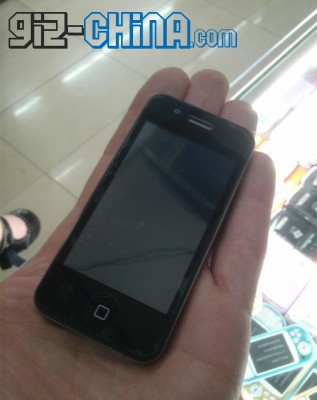 mini iPhone devices run a Java-based iOS ripoff and behave a lot like the original iPhone. Most notably, these Chinese knock-offs are about 2/3 the size of the real iPhone 4…
A
Giz-China
writer stumbled upon a dealer selling these fake iPhone Nano devices off-contract for about $60. He described the device as being small enough to fit inside the palm of his hand.
These fake iPhone Nanos sport a 1.3 megapixel rear-facing camera, and allegedly have a front-facing camera as well. Giz-China didn't get to try the front-facing camera.
Although the device's operating system distinctly resembled iOS, it was obvious that the fake iPhone in question was running a Java-based knock-off of Apple's iOS. Giz-China didn't get an extensive hands-on with the device, but they did provide some helpful insight into the fake iPhone market.
Devices like this remind us of the Sophone knock-off, but this fake iPhone Nano lacks the specs needed to make it a worthy iPhone competitor. The only thing it has going for it is price.
What do you think about this fake iPhone Nano? Apple probably has something much cooler up its sleeve
Tags:
Apple
iPhone 4