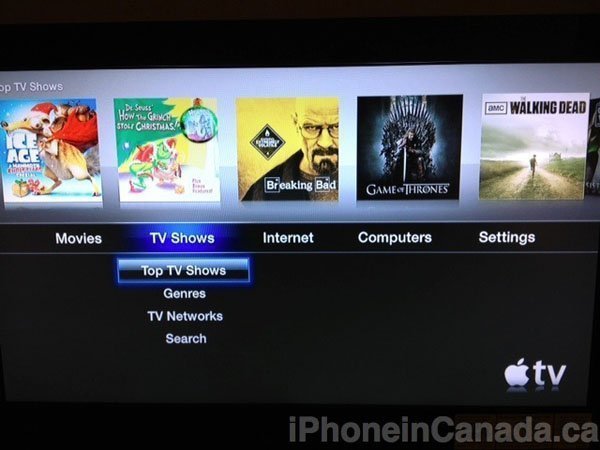 Looks like Apple has temporarily turned on streaming of purchased TV shows on the Apple TV for customers in the UK, Canada and Australia on Wednesday. Users from these countries have been able to purchase the episodes directly on Apple TV 2 and stream it to the device. These were actual purchases, not rentals, and cost between free and $2.49 in Canada and about $2.99 AUD in Australia. According to GigaOM, only Aardman Studios, A&E, History Channel, PBS, PBS Kids, Vivendi Entertainment and Viz Media appear to have made their content available as of yet.
Yesterday, users started reporting that TV Show menu has disappeared from the Apple TV, so it looks like Apple removed this feature again. According to iPhoneinCanada, Apple did it because "the update was mistakenly sent out early, or the fact it wasn't working properly."
You may also want to read:
Apple TV 3 or Apple TV set?
How to Jailbreak Apple TV 4.4.3 with Seas0nPass – Tethered
FireCore releases aTV Flash (black) 1.0 to supercharge the Apple TV 2
Visit What's on iPhone for the best iPad and iPhone app reviews!
Do you want to feel like a wizard? Check the Kymera wand in Amazon: You can control your Apple TV waving a wand!