Dev-Team has released the ultrasn0w 1.2 to unlock iPhone 3G and 3GS running iOS 4.2.1. But before unlocking you will need to upgrade your iPhone's baseband to iPad's baseband (06.15). Here is complete guide following which you can upgrade your baseband as well as unlock your iPhone 3G and 3GS.
Read it carefully:
Upgrade your iPhone's baseband only if you want to unlock your iPhone to use the Carrier of your choice.
There is no way to come back down from 06.15, and there's no hiding the baseband version from Apple.  You'll be voiding your warranty in a very obvious way.
If some future baseband comes out with a critical fix, you won't be able to update to it if it remains down in the 05.xx sequence (then again, you wouldn't update to it if you wanted to keep your unlock anyway).
Starting with FW 4.2.1 if you have 06.15 on your iPhone you won't ever be able to restore to stock firmware (it will fail).  You'll need to only restore to custom IPSWs (then again, if you're unlocker you should already be doing that).
So if you are ready then follow the steps below to jailbreak and unlock iOS 4.2.1:
1. Download iOS 4.2.1 files for your iPhone:
2. Download redsn0w 0.9.6b5 from here and extract the zipped file.
3. Connect your iPhone 3G/3GS to your PC and run iTunes 10.1. If you don't have iTunes installed download it from here.
4. Select your iPhone from the left iTunes' pane . Now hold down Shift and click the Restore button.
5. Navigate to the folder where you stored downloaded iOS 4.2.1 ipsw file. Select .ipsw file and click the Choose button to continue.
6. Once iTunes has finished updating your iPhone to iOS 4.2.1 open the folder where you extracted redsn0w_win_0.9.6b5.zip and launch the redsn0w.exe.
7. Click the Browse button and Select the iOS 4.2.1 firmware file downloaded in the first step.
For iPhone 3GS users only: You will be asked whether you are using newer 3GS model. Click Yes if you are using an iPhone 3GS with a newer bootrom or click No if it has an older bootrom. If you don't know the bootrom you can find it by following different guides on the web.
8. Now click the Next button to continue.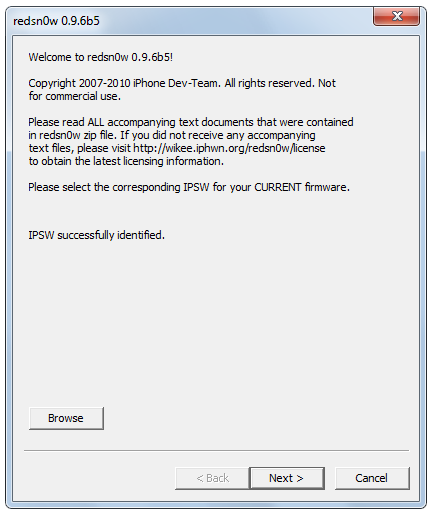 redsn0w will now prepare the jailbreak data.
9. Now select the options you want.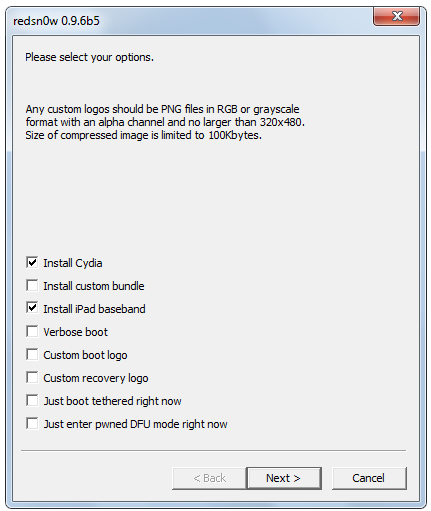 10. Make sure that Cydia is selected.
11. Check Install iPad Baseband only if you want to unlock your iPhone using ultrasn0w. When you will check the Install iPad Baseband a warning will appaer. Read it carefully and click Yes only if you are sure.
Warning: Updating your iPhone's baseband to 06.15 (iPad's baseband) may disable your GPS.
12. Now click the Next button to continue.
13. Connect your iPhone to the computer and make sure its switched off then click the Next button.
14. Now follow the on-screen instructions to put your iPhone into DFU mode.
Hold down both the Home button and the Power button for 10 seconds.
Release the Power button and continue holding the Home button until redsn0w detects the device.
Once your entered DFU mode. redsn0w will upgrade your iPhone's baseband to iPad's baseband (0.6.15) and your iPhone will reboot. Warning: During the baseband upgrade process, please keep your iPhone plugged into USB the whole time.  You don't want your battery to die during the flash process!
After upgrading baseband redsn0w will upload the RAM Disk and Kernel.
15. Once redsn0w finishes uploading data. Click the Finish button.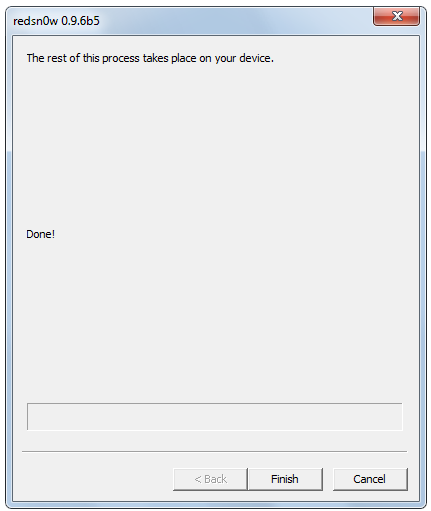 Important note for iPhone 3GS users having new bootrom: Users having newer iPhone 3GS can use redsn0w to boot back into your jailbroken device. Select Just boot tethered right now from the options window and click Next.
You are now eligible for ultrasn0w unlock. Follow the simple steps below to unlock your iPhone 3G/3GS:
Run Cydia from your iPhone.
Tap the Manage tab and select Sources.
Now tap the Edit button at the top and then click Add.
Add this repo:Â http://repo666.ultrasn0w.com
Now tap the Search tab
Write ultrasn0w 1.2.

Select and install the ultrsn0w 1.2.
Reboot your iPhone.
Enjoy the unlocked iPhone .
Update: Unlock your iPhone 3G/3GS with SAM to fix push notifications and battery drainage.
For live updates follow us on Twitter or like us at Facebook.
Tags:
iPhone
jailbreak
RedSn0w