This is a guide for jailbreak using the beta version of redsn0w for the iPhone3G and iPod Touch 2G at FW 4.1 or 4.0. Before you start read some important info:
It uses the same pwnage2 DFU-mode exploit that we've been using since the 2.x days. It does not include the SHAtter exploit developed by pod2g. Nothing new is revealed to Apple with this jailbreak.
IF YOU USE THE ULTRASN0W UNLOCK, PLEASE WAIT FOR PWNAGETOOL TO SUPPORT 4.1. DO NOT USE REDSN0W. That's because to use redsn0w at 4.1, you need to already have updated to official 4.1 from Apple. If you do that, you lose the ultrasn0w unlock (possibly forever).
The Windows version needs further testing, so for now this is available only for Mac OS X x86. The Windows version will come as soon as the bugs are ironed out.
Note: if you have an "MC" model of the ipt2g, your 4.1 jailbreak will be tethered…sorry! (Consider rolling back to a FW supported by jailbreakme.com or spiritjb.com)
===== What devices, platforms, and FW versions are supported? =====
This BETA release supports:
iPhone 3G and iPod touch 2G only (for now)
Mac OS X x86 only (for now)
4.1 or 4.0 firmware from Apple
HERE IS THE STEP BY STEP GUIDE :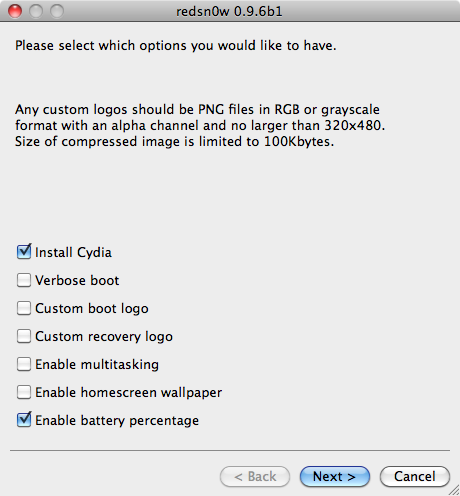 How to Jailbreak iPhone 3G iOS 4.1
Step 1: Make sure you are running the latest version of iTunes (iTunes 10).
Step 2: Download iOS 4.1 for iPhone 3G to your desktop from here .
Step 3: Update your iPhone to iOS 4.1 via iTunes.
Step 4: Download the latest version of RedSn0w from here.
Step 5: Point RedSn0w to the iOS 4.1 you downloaded in step 2.
Step 6: Select "Install Cydia".
Step 7: Follow the onscreen instructions.
Step 8: Let RedSn0w do the hard work for you. Once jailbroken, your iPhone will reboot.
That all.
Tags:
iPhone
jailbreak
RedSn0w