As we P0st before

HERE

, the popular video chat app called fring has announced that it will bring the world's first group video chat functionality to iOS and Android.. They have also Demoed that feature in an Video. They have added a New Group Video Calling Feature to Fring.
What is the meaning of this ? Simply: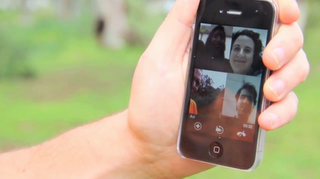 You can call your Fring Friends from Anywhere

Do a Video Chat either from your iPhone or Android Device.

Add upto Four Friends(with the new DVQâ"¢ technology) in this Video Chat.

You call your friends from anywhere you want using 3G,4G or WiFi.

Now also with more clear Voice and Video Experience with Fring 5.0.0.52.
Description:
Fring takes Video call to the max with GROUP VIDEO! Now 4 people can video call at the same time! fring Video calls are superior thanks to fring's DVQ™ technology. Get the best Video Calls possible! fring's video calling DVQ™ technology (Dynamic Video Quality) gives you the best video and audio quality possible by automatically and continuously adjusting your video call quality to match your connectivity.
Features:
The only free mobile Group Video Call service in the world!

Video call/Call any other iPhones, iPod touches, Android, Nokia and more

See your friends real-time status; you can chat with your friends before video-calling them

Great for iPhone and iPod Touch

Fun and easy to use

Screenshots:
Download For iOS Devices:
For iPhone, iPod Touch and iPad from HERE (for free).
For Android Devices: from HERE (for free).
Demo Video:
Here's an demo video of how Fring's New Group Video Calling Features Works:

Imp0rtant P0sts Fr0m Redsn0w.us:
Tags:
android
Apple
download
ipad
ipod