iPhone Dev-Team has updated the redsn0w to untethered jailbreak iOS 4.3.2 on iPhone, iPod touch and iPad. Redsn0w 0.9.6rc14 uses the same @i0n1c's untether vulnerability to jailbreak iOS 4.3.2. Using redsn0w 0.9.6rc14 you can untethered jailbreak iOS 4.3.2 on iPhone 4 (GSM model), iPhone 3GS, iPod touch 4G, iPod touch 3G and iPad. iPad 2 isn't jailbreakable with i0n1c's exploit, so this version of redsn0w doesn't support iPad 2.
Follow the step by step guide posted below to untethered jailbreak iOS 4.3.2 on iPhone, iPod touch or iPad.
Note: If your device is running iOS 4.3.2 tethered jailbreak, then follow from step 7.
1. Download iOS 4.3.2 for your device:
2. Connect your iOS device to your computer and run iTunes. If you don't have iTunes installed download it from here.
3. Select your iPhone/iPod touch/iPad from the left pane in iTunes. Now click the restore button while holding the Shift key from your keyboard [hold the Option key if you own a Mac]
4. Navigate to the folder where the just downloaded iOS 4.3.2 ipsw file is located. Select .ipsw file and click the Open button to continue.
5. Now wait for iTunes to finish updating your iOS device to iOS 4.3.2.
6. Download redsn0w 0.9.6rc14 [Mac] [Windows]
7. Extract the downloaded redsn0w file and run redsn0w.
8. Click the Browse button and Select the iOS 4.3.2 ipsw downloaded in the first step.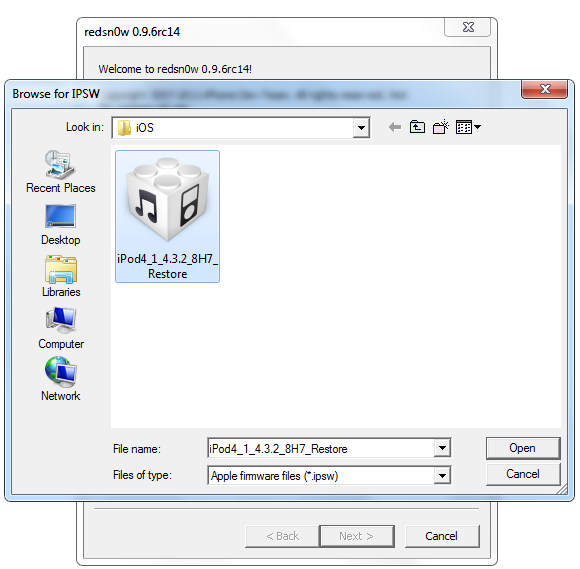 9. Now click the Next button to continue. redsn0w will now prepare the jailbreak data. When done click the Next button.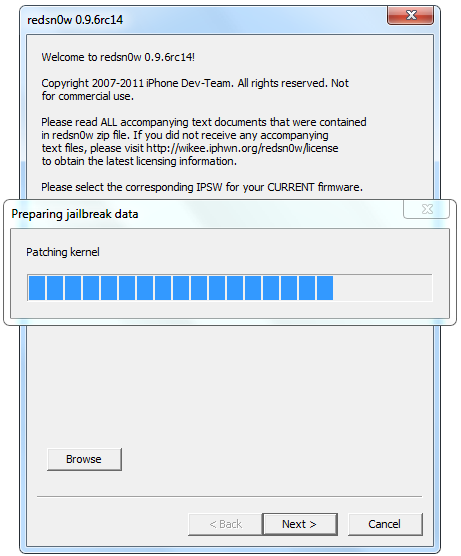 10. From the next window select the options you want. Make sure that "Install Cydia" is checked. [Note: If you are already having tethered jailbreak for iOS 4.3.2 then un-check all the options]
11. Click the next button and make sure that your iOS device is both switched off and connected to your computer.
12. Now click the Next button and follow the on-screen instructions to put your iOS device into DFU mode.
Press and hold the Sleep/Power (located at top right) button for 3 seconds.
Keep holding the Sleep/Power button and press Home button (located at bottom center) for 10 seconds.
Now release the Sleep/Power button while keep holding the Home button for about 15 seconds. (redsn0w might detect your device before the 15 seconds)
13. Once you entered DFU mode, redsn0w will start the jailbreak process.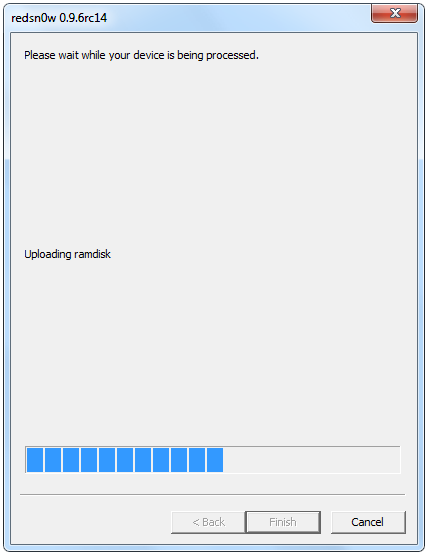 14. When done a Finish button will appear. Click the finish button.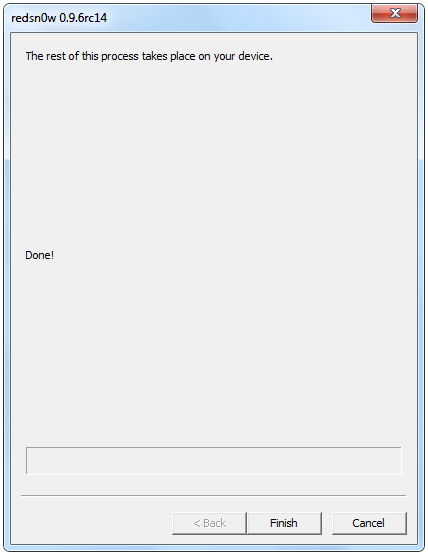 15. Now wait for your iOS device to finish the remaining jailbreak process.
16. When done your iOS device will reboot. Enjoy!
You can follow us on Twitter and Facebook to stay updated with the latest news about your favorite gadgets.
Tags:
guide
ios
iOS 4.3
ipad
iPhone
ipod Touch
mac
pc
RedSn0w
untethered Jailbreak
windows