iOS 4.3.1
. Here's another proof from
BGR
, they have leaked a screenshots of the upcoming
iOS 4.3.1
which has been tested by someone inside Apple. According to the source,
iOS 4.3.1
will simply fix bugs and battery life improvement. You can check out the changes from iOS 4.3 after the jump.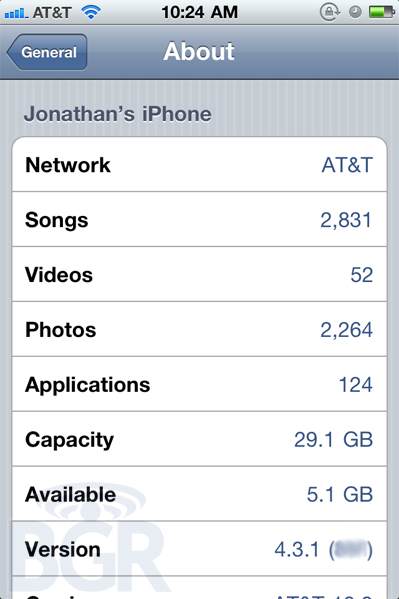 Baseband updates for the 3GS and iPad (original)
Fixed memory hang that results in memory corruption when reading large files from USIM filesystem
Fixed problem with NTLM authentication in apps and on websites
Fixed issue with the Springboard and 3rd party apps not recognizing the gyroscope on the iPad 2
Fixed iPad 2 jailbreak vulnerability
The source also still confirming that Apple will release iOS 4.3.1 between one to two weeks, stay tuned.
Tags:
Apple
iOS 4.3.1