As I reported Chronic Dev-Team has released the Greenpois0n RC6 for both Windows and Mac to untether jailbreak iOS 4.2.1 on Apple TV 2G. So if you are ready to jailbreak your Apple TV 2G then follow the step-by-step guide posted below.
1). Download iOS 4.2.1 for Apple TV 2G from here.
2). If your Apple TV 2G isn't running iOS 4.2.1 then update to iOS 4.2.1 using iTunes.
3). Download Greenpois0n RC6 for Windows or Mac from here.
4). Extract the folder to access the Greenpois0n jailbreak tool.
5). Connect your Apple TV 2G to PC or Mac and turn it off.
6). Run Greenpois0n. A pop-up window will appear click the Yes button to continue.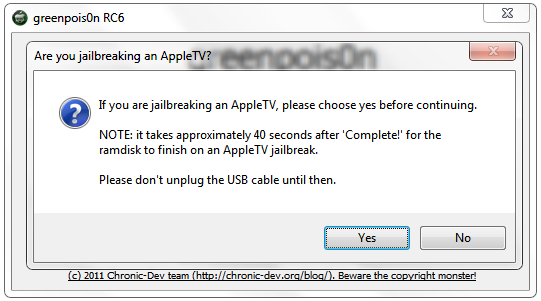 7). Make sure your Apple TV is powered off. Now click the Prepare to Jailbreak (DFU) button.
8). Get yourself ready to put your iOS device into DFU mode. Just follow the on-screen instructions.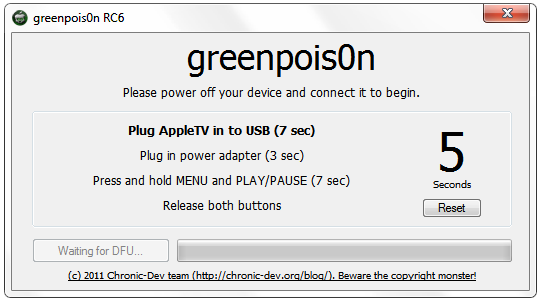 Plug Apple TV 2G in to USB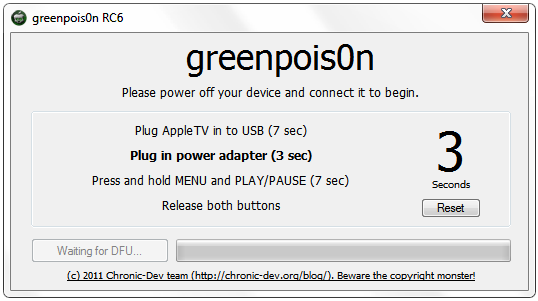 Plug-in the power adapter
Press and hold Menu and Play/Pause buttons for 7 seconds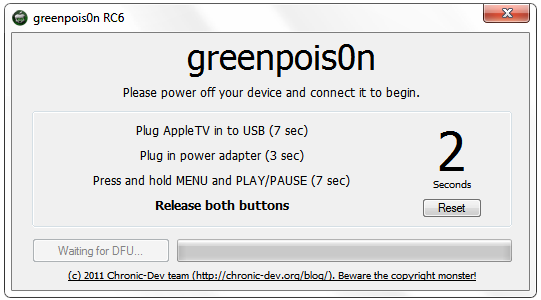 Now release the both Menu and Play/Pause buttons
9). If you have successfully put the Apple TV 2G into DFU mode (else repeat from step 7) then greenpois0n will say "Ready to Jailbreak" and a Jailbreak! button will appear as shown below.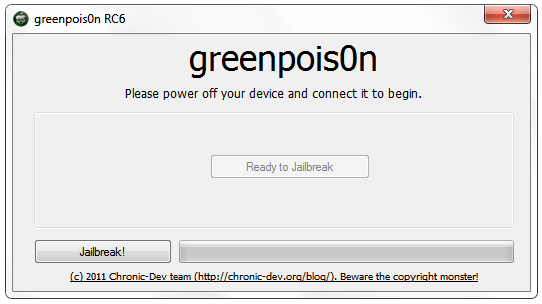 10). Click the Jailbreak! button and wait for a few moments to let greenpois0n jailbreak your Apple TV 2G.
11). Once jailbreak is done greenpois0n will say "Jailbreak Complete!" and a Quit button will appear. Now unplug the Apple TV from your computer and connect it to TV.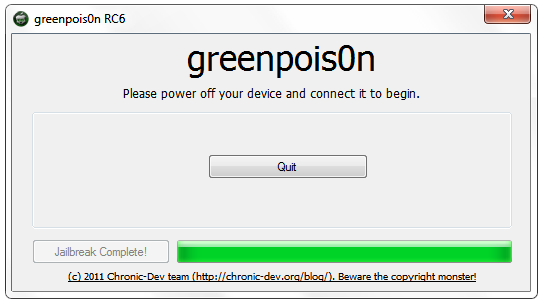 12). Go to greenpois0n menu and select Inject Software as shown below. It will install the required Cydia packages.
13). Enjoy!
You can follow the step-by-step guide posted here to untethered jailbreak your iPhone (Verizon too), iPod touch and iPad running iOS 4.2.1.
This is a syndicated post, which originally appeared at MAGGadget. View original post.
Tags:
Apple TV 2G