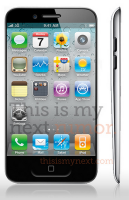 With the wait for Apple's White iPhone 4 almost over, speculation has now turned to focus on the company's next iPhone iteration, iPhone 5. Currently expected to be announced this September, This Is My Next tonight claims to have some further information on this as yet unreleased device.
For starters, they claim that, despite recent reports claiming otherwise, iPhone 5 will be a complete re-design and look very different to today's iPhone 4. Currently reported to be a prototype in testing, This Is My Next claims iPhone 5 will feature a larger home button (as seen in the mock-up above) which … wait for it … will be gesture sensitive.
Alongside a larger, gesture sensitive home button, (which it is reported will work with most of the gestures currently being testing in iOS 4.3), This Is My Next also claim the device will not feature an outer bezel (as such), but instead will see the display run from edge-to-edge. The display itself is said to be an upgrade from the current 3.5-inches (seen on the iPhone 4) to 3.7-inches, causing a pixel drop of 13 pixels-per-inch.
The interesting part? – Even taking into account the 13 pixel drop, this display would still qualify as "Retina".
On the less-confirmed side of this report This Is My Next also hints that the iPhone 5 may feature both wireless inductive charging and/or NFC (Near Field Communication), but again – compared to some other of the details above – these details have not yet been confirmed.
In closure, This Is My Next stresses that this described device may never come to fruition, but notes that a device of this nature is currently being tested at Apple, Cupertino, California – and that, they say, is confirmed.
Now, keep in mind that this info isn't fact — we're getting lots of threads from lots of places and trying to make sense of the noise. The versions of devices our sources are seeing could be design prototypes and not production-ready phones. Still, there are strong indications that Apple will surprise a public that's expecting a bump more along the lines of the 3G to 3GS — and this is some insight into where those designs might be headed. We're working on a couple of other intriguing pieces of information concerning future Apple products… so stay tuned for much, much more.
[

RazorianFly

,

ThisIsMyNext

via

9to5Mac

]
Imp0rtant P0sts Fr0m Redsn0w.us:
Tags:
Apple
iphone 5